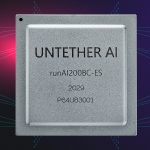 Untether AI's at-memory compute architecture claims to improve AI compute efficiency.
The company's tsunAImi accelerator cards powered by runAI devices provide energy efficiency and compute density for inference acceleration.
With this latest funding round, Untether AI will be well-positioned to accelerate and expand its customer engagements across a multitude of markets.
Since at-memory computation is both general purpose and extremely energy efficient, it can be used in a variety of industries and applications.