[ad_1]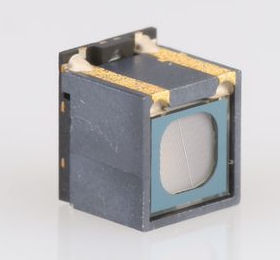 Called Belago 1.1, it combined a 940nm VCSEL infra-red laser with a micro lens array, all in a 4.2 x 3.6 x 3.3mm package. Two nominal drive currents are listed: 350 or 425mA, delivering typically 250 or 300mW.
The dots cover an angular field of 61° horizontally (FWHM) and 78° vertically .
Non-periodic dot projectors are used to improve stereoscopic measurement performance in low-contrast conditions where conventional flood lighting yields insufficient information.
In this case, the device is intended to be used at a distance of one to three meters in anti-collision sensors in low-speed robots and automatically-guided vehicles.
"Consumer robots such as vacuum cleaners or lawn mowers, and industrial automatically-guided vehicles and autonomous mobile robots need eyes to navigate around their environment,"  said Osram product manger Matthias Gloor.
As well as two connections for the laser diode, the package has two more connections in its footprint, internally shorted by a conductor which runs up the side of the module (visible in photo) and through the lens structure.
This is an eye-safety interlock designed to become open-circuit if the lens assembly is displaced, removed or broken, allowing the laser to be shut-down.
Other potential applications for the device are face authentication for access control and payment terminals, physical volume measurement for logistics chains and gesture detection in consumer products for gaming, home gym and device control.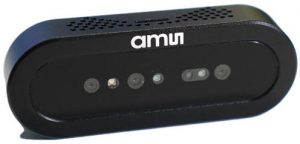 Hermes (right) is an associated evaluation kit which includes cameras.
The Belago 1.1 product page is here


[ad_2]

Source link