Hong Kong-based LightPix Labs has launched a FlashQ system called the X20 for Sony mirrorless systems that is both an on- and off-camera strobe and LED video light.
The X20 is an updated version of its previous system and adds a bi-color LED Light for video that also functions as a modeling lamp and TTL flash with wireless radio control that uses a "Mi" shoe interface.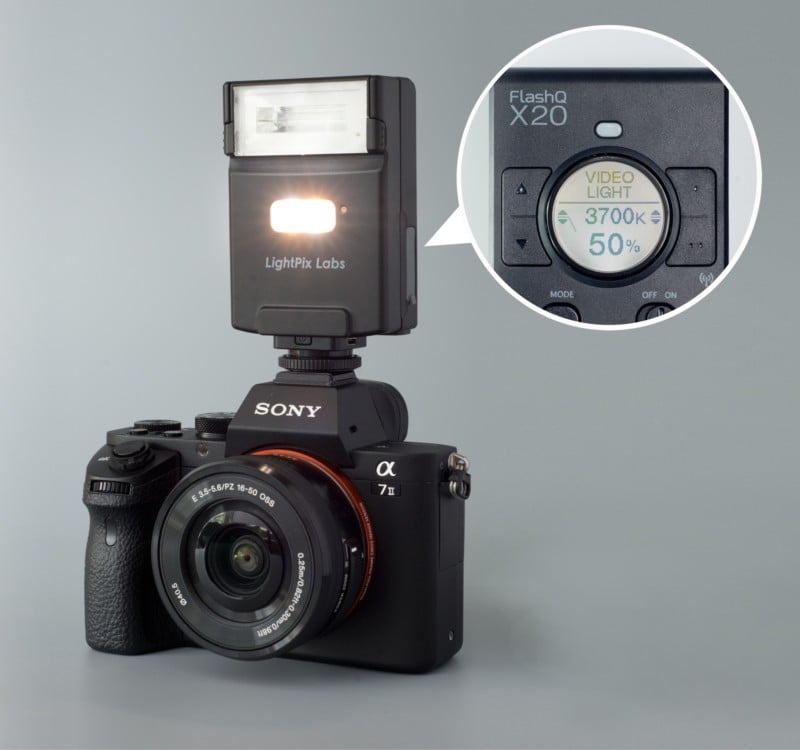 The FlashQ X20 leverages the same compact form as the existing GN20 flash from the company's lineup but packs in new and improved features from the previous generation. Added to this version are the much-requested TTL functionality and new, more intuitive controls. The circular-shaped LCD display on the back of the flash unit has been updated to better display these new functions and setting options and promises to give better control over the new LED video light and adjustable brightness/color temperature settings.
While the features aren't necessarily standout, the form factor is: the X20 is incredibly compact. It can be used as a standard on-camera-flash type system like any other speedlight on the market, however, the X20's main body can also be easily detached from the hot-shoe (where the transmitter is located) which enables the system to be used as an off-camera flash without the need to purchase additional accessories.
The 2.4GHz flashbulb can tilt up to 90 degrees, has a guide number of 20 (at ISO 100) with a focal length coverage of 23mm on a 35mm format system, and LIghtPix claims the transmitter's battery can last for up to 30 hours of operation (120 days in standby mode). The flash itself is powered by two AA batteries and has a promised recycling time of five to six seconds at full power.
According to the company, the X20 can fire about 2,000 flashes at minimum power and 100 at maximum power per set of batteries. The LED light is brightness and color temperature adjustable (from 3,000 to 5,500 Kelvin) and offers up to a 60 lux output at a distance of one meter and can stay on for about one continuous hour at full power. While the system can be used as an "off-camera" type setup, the range, however, is somewhat limited. According to the product page, the radio trigger uses a low-power system capable of about a 10-meter wireless range.
Currently, the FlashQ X20 is compatible with a wide selection of Sony mirrorless systems including the Sony Alpha systems ranging from the original Alpha 7 to the Alpha 7S III to the RX10 Mark IV. The company has stated that they plan to expand the support and compatibility of this flash on additional systems "soon."
The FlashQ X20 system is available for $149 from LightPix Labs.