[ad_1]


The benefits of brushless DC (BLDC) motors are clear, and they are used in many applications within vehicles and elsewhere. However, while more powerful, lighter and more efficient they remain more expensive and require more complex control than brushed DC motors. This means that consideration must be given to which motor type is the most appropriate for each application within a vehicle. In general, the less the motor is used during a journey, the greater the benefit of using a brushed DC motor.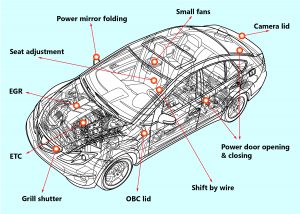 Figure 1: There are many applications for motors in the modern automobile
In many motor applications, a microcontroller (MCU) within the ECU receives control inputs via CAN or LIN. These signals are converted to pulse-width modulated (PWM) motor control signals and are used to control the power switches (usually MOSFETs devices) that drive the motor using a gate driver to increase the power. The MOSFETs are configured as an H-bridge that allows the motor to rotate in both directions and with PWM signals, control the speed of the rotor.
With the need for compact and reliable designs, integrated approaches are required. Integration of the MCU and pre-driver stage is an option although the MCU software for the MCU is tested and safety approved, so the need to port and recertify the software precludes this approach.
An alternative is to use a motor control driver (MCD) that integrates the pre-driver with the H-bridge.  This provides a high degree of integration while leaving designers with a free choice of MCU and associated software.
Toshiba's recently introduced TB9053FTG and TB9054FTG build upon a heritage in automotive electronics from the 1970s. These dual-channel DC motor drivers use robust BiCD technology, combining the best features of bipolar, CMOS and DMOS. Each device integrates two H-bridges of N-channel DMOS switches, pre-drivers, and several diagnostic and control features that permit automotive OEMs to quickly locate the source of functional failures.
The devices can operate in SMALL mode, supporting a pair of 5 A motors, or LARGE mode, using two parallel channels to control a 10 A motor. Toshiba's BiCD process delivers low path resistance of just 290 mΩ, thereby minimising heat generation and thermal management needs. Integrating the capacitors for the pre-driver charge pumps further reduces external component count and space. The advanced design permits duty cycles of up to 100% to be used.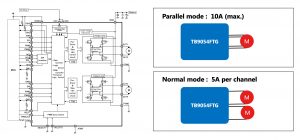 Figure 2: The TB905xFTG can deliver up to 5 A per channel for two motors in SMALL mode, or up to 10 A in LARGE mode for a single motor.
The four integrated half-bridges have individual PWM inputs that can be driven at speeds from 1 kHz to 20 kHz. For safe operation, deadtime insertion is handled within device hardware, while other pins support device configuration and enable / disable.
The inbuilt SPI interface gives multiple configuration options and access to diagnostic data, as well as allowing multi-device daisy-chaining to control several motors. An overcurrent threshold can be set between 4.6 A and 6.5 A in SMALL mode or 9.2 A and 13.0 in LARGE mode.
The motor driver can be operated solely via SPI using an onboard 16 MHz oscillator and PWM controller , thereby reducing the signal count required from the MCU. A single MCU clock output provides the time base and, if this fails, the internal oscillator can provide a 'limp-home' ability.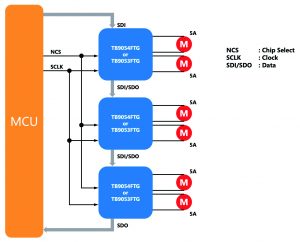 Figure 3: Using the SPI interface can reduce the number of MCU pins required
As large motor currents are present, meeting electromagnetic compatibility (EMC) requirements is challenging, so the TB905xFTG offers seven slew-rates (1.09 to 26.25 V/µs) to assist with this. Low on-resistance minimises heat generation. Any heat that is generated is rapidly dissipated via the TB9053FTG's thermally enhanced packaging where an integrated heat sink achieves a thermal resistance of just 0.67°C/W meaning that a PCB can provide the required heatsinking in certain designs. The TB9054FTG is in a 6 mm square VQFN package with a 0.5 mm pin pitch and wettable flanks, making this AEC-Q100 device ideal for automated optical inspection (AOI), as preferred by the automotive industry.
Summary
While many applications now use BLDCs, a number of automotive applications will continue to use brushed DC motors for design complexity and cost reasons. Toshiba's TB905xFTG uses an advanced BiCD process to deliver highly integrated motor control that is configurable and efficient. The devices fulfil strict automotive quality and inspection demands while retaining existing MCUs and the certified software they execute.
To download the full Toshiba Whitepaper on this more integrated approach to electric motor control has been published by Toshiba and can be downloaded here.


[ad_2]

Source link