SparkFun QuickLogic Thing Plus was originally crowdfunded on CrowdSupply that raised around $4500. If you did not back the product back then, no worries, you can buy it now on the SparkFun product page. SparkFun QuickLogic Thing Plus is a powerful FPGA board that comes with a Feather-footprint. The product from the collaboration of SparkFun and QuickLogic makes it a rapid prototyping open-source hardware with ultra-low power SoC for power-sensitive applications.
This FPGA board is built around QuickLogic's EOS S3 MCU + eFPGA SoC featuring embedded FPGA (eFPGA) technology with 2,400 effective logic cells. The Arm Cortex-M4F MCU provides 512 KB of RAM. One of the important features to note is the out of the box support for machine learning algorithms with TensorFlow Lite and SensiML. However, since it has eFPGA, the software support in that regard is SymbiFlow and Renode.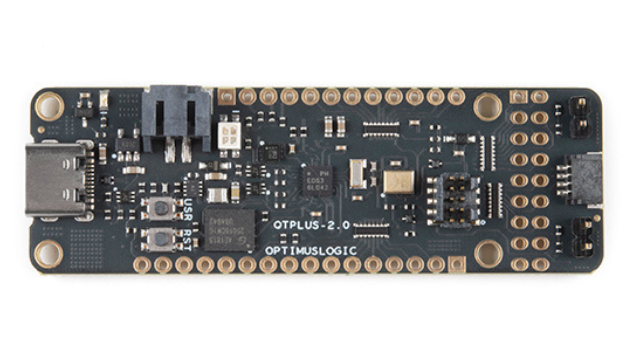 Specification of SparkFun QuickLogic Thing Plus:
CPU: QuickLogic EOS S3 MCU + eFPGA SoC featuring Arm Cortex-M4F MCU running at up to 80 MHz
Form factor: Breadboard-compatible 0.1″ (2.54 mm) pitch headers – all headers are pre-soldered
Dimensions: 2.75″ x 0.9″ (70 mm x 22.9 mm) footprint
Storage: 16 Mbit SPI NOR flash
Sensors: Accelerometer, Digital pulse density modulation (PDM) microphone
Interfaces: SWD programming connector, UART, I²C, I²S, SPI
Power supply: USB Type-C connector or via Li-Po battery
As mentioned earlier, the QuickLogic EOS S3 SoC is an ultra-low-power chip, so the board can be powered using a Li-Po battery as well with onboard charging circuitry using the Microchip MCP73831/2 and has a standard Li-Po JST connector. When it comes to ML applications, it is always an added advantage when there are sensors onboard. So, to solve this the designer has provided the board with an accelerometer with STMicro LIS2DH12TR and digital pulse density modulation (PDM) microphone with Wake-on-Sound (WoS) feature through the Vesper VM3011-U1.
With open-source hardware comes a wide range of real-time operating systems support, including Zephyr RTOS and FreeRTOS. The hardware is ideal for IoT, TinyML and traditional MCU applications. For more information on the specification, head to the product page where it is priced at $45.95. If you plan to purchase the SparkFun QuickLogic Thing Plus board, there is a hookup guide available that will help you get started.