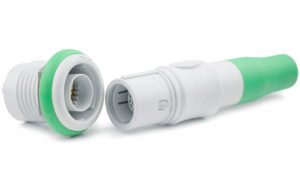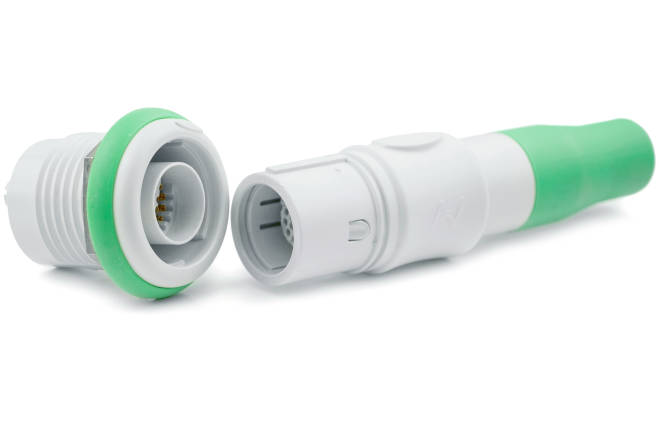 Called Hypergrip Flex, the main change is a move from its >20,000 insertion cycle Hyperboloid socket contact to its >2,000 insertion cycle 'MR' socket – an 0.4mm diameter socket suited to "standard cycle life applications", according to the company.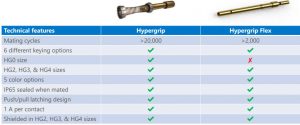 Comparing Hypergrip and Hypergrip Flex
Both Hyperboloid and MR contacts are rated to carry 1A and have <12 mΩ resistance for their respective lives.
MR contacts are screw machined, made by high speed turning, and are crimp-and-poke assembled rather than needing soldering. Insertion and extraction forces are low, according to Smiths, and the connector mates and de-mates smoothly, sealing to IP65 when closed.
Latching is push-pull, offering one-handed mate and un-mate, and colour-coding is available to improve end-user comprehension.
Although the housings are plastic, EMI/RFI shielding is available as an option in sizes HG2,3 and 4.
The parts are designed to meet medical industry requirements such as finger-proofing to IEC60601, UL94 V0 flammability rating and compliance with most sterilisation methods.
"Hypergrip Flex embeds all benefits of the existing Hypergrip connector within a cost-effective design for standard cycle life applications," said Smiths general manager Mark Kelleher. "Our keying system allows customers to build connectors with six different keyed versions of the same standard connector, reducing inventory."

They can be used in most medical market applications, according to the company, including devices for patient monitoring, electrosurgical tools, endoscopes, catheters, home healthcare and portable therapeutic applications (see table right).