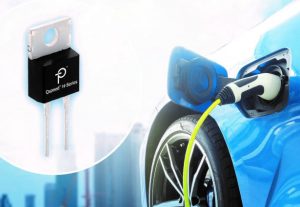 "The Qrr of these new Qspeed diodes is half that of the next best ultra-fast silicon diodes, resulting in high system efficiency," according to company marketing manager Edward Ong. "This is particularly important for automotive on-board charger applications that require higher switching frequency to reduce volume and weight, and enables the Qspeed diodes to replace SiC devices."
Inside is merged PiN and Schottky diode technology. "Its smooth reverse recovery current transition characteristics not only increase efficiency, but also reduce EMI and peak reverse voltage stress, eliminating the need for snubbers when used as output rectifiers in on-board chargers," claimed PowerInt. "It improves efficiency of the PFC stage of on-board chargers and significantly reduces the thermals of the PFC mosfets."
The part is the QH12TZ600Q. At 125°C, typical figures are:
30nC Qrr
2.2A Irrm (maximum reverse recovery current)
0.6 tB/tA softness
Packaging is 2.5kV isolated TO-220, allowing the device to be mounted directly onto metal heatsinks.
The diodes are qualified for AEC-Q101. Fab, assembly and test certification is IATF 16949.
The QH12TZ600Q product page is here
Authorized distributors include Digikey, Farnell, Mouser and RS Components.