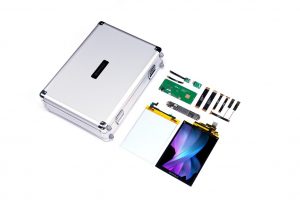 The hardware kit combines Royole's flexible display and sensor technologies with programmable hardware. Basically, it's intended to be an all-in-one flexible electronics development kit for product designers and application developers.
Possible applications? How about smart helmets with an interactive display, or novel PC designs, or extended handheld consoles, or 360-degree rotating screen applications…
RoKit
The kit comprises four main elements: the development mainboard (featuring an 8-core, 2.2GHz, Qualcomm SDA660 SoC, with 3GB of RAM and 32GB of ROM and running Android 10), a 7.8-inch Fully Flexible Display (FFD) module, a Fully Flexible Sensor (FFS) module and a HDMI Adapter.
There's also an anti-static aluminum alloy briefcase for protection and convenience for transporting the kit.
"To make our technology as accessible as possible to designers and developers across all industries – from tech hardware enthusiasts to product designers across fashion, sports, smart transportation and more – we designed RoKit to be simple and easy to use. It only takes five steps to prep the kit for use, enabling developers and product designers of varying skill levels and technical backgrounds to bring their personalized needs to life in fully flexible form."
The RoKit is available for purchase in the United Kingdom, United States, Germany, Japan and China.
You can find out more on the company website.