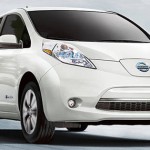 "Building on over 30 years of history in this area, this is a pivotal moment in our electric vehicle revolution and securing its future for decades to come," said Prime Minister Boris Johnson.
The plant is being built with Nissan's existing battery partner – the Chinese company Envision.
The plant will have the capacity of  9GWh per year capable of supplying batteries for 100,000 cars a year.
At the moment the Sunderland plant has 1.7GWh per year capacity.
The investment will create 900 jobs at Nissan and 750 at Envision and a total 6,200 when the effect on suppliers is added in.
.