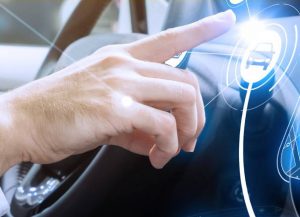 The result is the MAX25405 and, like its predecessor, it is intended to displace camera-based time-of-flight systems in automotive, industrial and consumer gesture recognition.
"MAX25405 senses a wider proximity of movement and doubles the sensing range from 20cm to 40cm when compared to earlier infra-red generations," according to the company (see table below).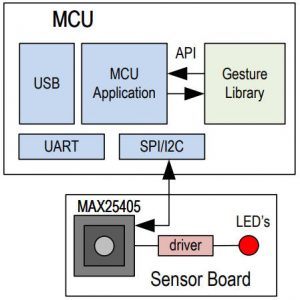 Like the earlier MAX25205, this chip includes a 6 x 10 array of infra-red photodiodes for reception, addressable from a host microcontroller over SPI or I2C.
Via external transistors it can also switch the necessary external infra-red LEDs – duty cycle is programmable from 1/16 to 16/16.
Gesture recognition is off-chip, by an algorithm in the host MCU (Cortex M0 in a MAX32630 is suggested), where nine gestures can be picked-out including swipe, rotation, air-click, linger-to-click and six proximity zones.
| | | |
| --- | --- | --- |
| | MAX25205 | MAX25405 |
| left-right gesture | 20cm | 40cm |
| up-down gesture | 20cm | 40cm |
| rotation gesture | 15cm | 30cm |
| Proximity | 3×2 zones | 3×2 zones |
| field of view | >±20° | >±30° |
Applications are foreseen in automotive, industrial and consumer products – touch-free smart hubs and thermostats are examples of the latter.
"Gesture sensing adds value to low- and mid-range cars, while offering passengers the luxury of touch-free gesture control," Maxim business unit director Szu-Kang Hsien.
Packaging is 4 x 4 x 1.35mm 20pin QFN package, and there is an evaluation kit: MAX25405EVKIT#.