The market for Li-ion battery cells in EV is expected to reach $86 billion by 2026.
The stationary market is expected to be almost $3.8 billion by 2026, at a 32% CAGR20-26.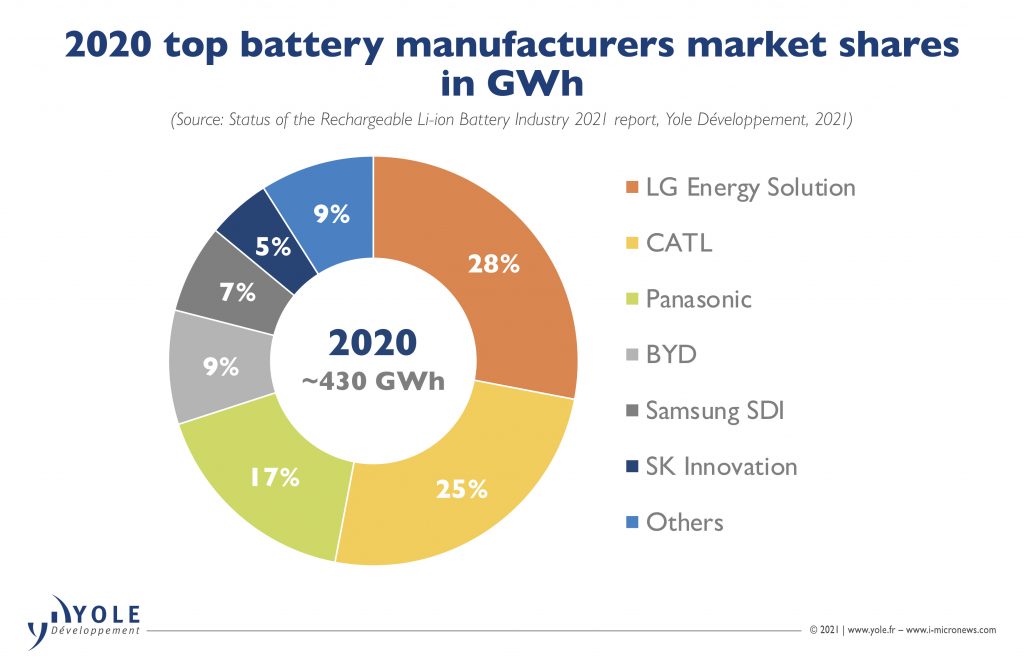 Lithium-ion technologies are increasingly employed to electrify transportation and provide stationary energy storage for electrical grids.
On the anode side, silicon has attracted attention for the last few years as it has a theoretical capacity of around ten times more than graphite.
Li-ion battery has become the technology of choice for many applications: it attracts attention from numerous players.
A major part of the growing cell demand is satisfied by a few leading battery cell suppliers, like LG Energy Solution, CATL, SK Innovation, Panasonic.
Other players, including start-up companies like Northvolt, Farasis and SVOLT have also identified a huge business opportunity in supplying battery cells for e-mobility markets, and are increasing their battery production capacity.
EV makers like Tesla, Volkswagen Group, BMW, General Motors, Ford, etc., are also investing billions of dollars to secure raw materials.
e-mobility alone will represent about 88% of global Li-ion battery demand.
Asia dominates the Li-ion battery supply chain, especially China, where Chinese Li-ion battery manufacturer CATL is the world leader in battery manufacturing.
China's success results from its sizeable domestic battery demand, control of more than 70% of the world's graphite raw material refining, and massive cell and cell component manufacturing capacity.
Korea and Japan rank number two and three in the Li-ion battery supply chain. While both countries are among the leaders in battery and cell component manufacturing (LG Energy Solution, Samsung SDI, SK Innovation, Panasonic), they do not have the same influence in raw materials refining and mining as China.
"Although Asia dominates the Li-ion battery supply chain, Europe is on the rise," says Yole's Shalu Agarwal, "as EV demand grows, there is an increasing need to establish cell manufacturing facilities close to the EV production site."
To access the European EV market, Asian battery makers implement their factories in European countries. At the same time, European companies also invest in European battery factories to catch the business associated with domestic battery demand"
Li-ion batteries for electric vehicles are in high demand, and in the future, battery supply may be an obstruction. Therefore, all carmakers have pursued different strategies to secure cell supplies.
For example, many carmakers partner with battery manufacturers (e.g., BMW and Northvolt); while some carmakers jointly establish a battery manufacturing factory with cell manufacturers (e.g., GM with LG Energy Solution; Renault with Envision AESC and Verkor); other companies are in a race to develop in-house battery production (e.g., BYD, Tesla, Daimler).
As battery demand grows, the need for battery components (anode, cathode, electrolyte, and separators) also increases.
To meet this demand, the companies manufacturing battery components (e.g., BTR, Asahi Kasei, SK Innovation) are increasing their production capacity rapidly.