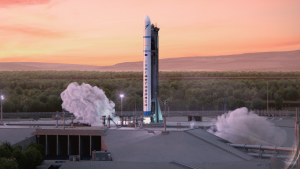 The round was led by HV Capital, Porsche SE, and Lombard Odier. There was also "substantial participation" from existing investors Earlybird, Lakestar, Vsquared Ventures, and Apeiron.
It added $75m to the amount raised at the end of last year. With total financing of more than $180m Isar declares itself the most well-funded space start-up in the European Union.
The funding will be used to invest in launch, testing, and manufacturing infrastructure for its largely automated rocket production. The company is expecting its first test flight in 2022.
"The support from new and existing investors is a strong sign of the momentum in the commercial space sector," said Daniel Metzler, co-founder and CEO of Isar Aerospace (right). "It shows that a broad array of investors has understood the significance of space technologies as a game changer for many business models and breakthrough innovations."

"As the most well-funded space start-up in the European Union, we are now at the forefront to provide flexible and cost-efficient access to this platform. For us at Isar Aerospace, this funding means even more firepower to invest in our infrastructure and further build on our leading position."
It says the global space launch services market is expected to increase to over 30 billion euros by 2027 – almost 10 billion of which will be from the deployment of small and medium-sized satellites.
"Space will become a key technological platform for many industries worldwide – from the automotive to the telecoms sector – bringing advances and new capabilities of IoT, data encryption and storage, as well as smart farming applications and surveillance for tackling climate change."
ESA
In November 2020 the European Space Agency (ESA) signed up Isar – along with two other German businesses – following its call for proposals for commercial space transportation services. All three companies offer new launch services to serve the small satellite market.
At the time, the ESA stated:
"Munich based Isar Aerospace Technologies, initially supported by ESA's Business Incubation Centre Bavaria, is developing a two-stage launch vehicle called Spectrum to serve the small satellite market."

"The 'Spectrum Launch Service Development Support' contract will cover measures to advance the rocket's 'Reaction Control System'. It will further support the definition and build-up of the launch vehicle manufacturing line at the Isar Aerospace premises in Ottobrunn."
Isar Aerospace was founded in 2018 with the mission "to lower the entry barriers to space and making space access affordable and sustainable".
Image: Isar – Its Spectrum rocket on the launchpad at Andøya, Norway