[ad_1]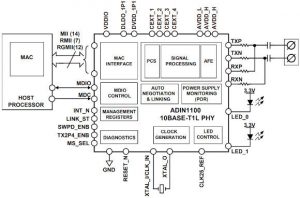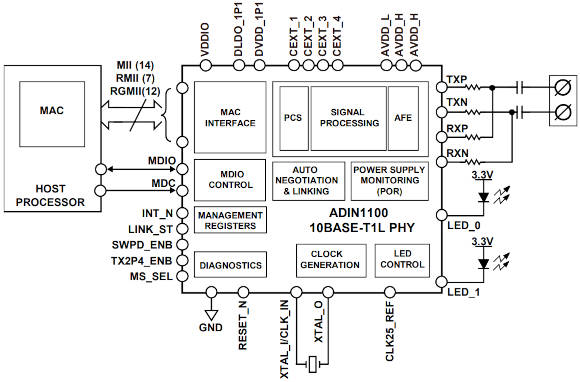 "By providing long-reach industrial Ethernet solutions that adhere to the 10BASE-T1L Ethernet standard, we're making it possible for our customers to achieve reliable communications over much longer distances, covering the last mile in connectivity," according to Analog Devices general manger Mark Barry.
The parts are:
ADIN1100 PHY
ADIN1110 MAC and PHY
The MAC-less version (diagram above) expects the MAC to be implemented in a host microcontroller for more complex designs such as field switch developments or building controllers.
Its interface to its host is MDIO two-wire serial compatible with both the IEEE 802.3 Standard Clause 22 and Clause 45 management frame structures.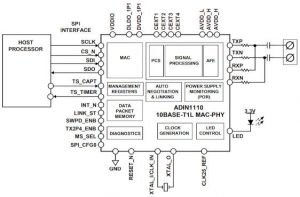 The MAC-inclusive version (diagram left) has a four-wire SPI interface is provided for communication between the internal MAC and host processor. Generic (half-duplex) and Open-Alliance (full-duplex ) version of the SPI protocol are available.
Its MAC supports 16 different MAC addresses and has one low priority receive FIFO, one high priority receive FIFO and one transmit FIFO.
These FIFOs can ship data in store-and-forward mode when using the generic SPI protocol and in either store-and-forward or cut-through mode when using the Open-Alliance protocol. Data is transferred over SPI interface using the generic SPI protocol and using the Open-Alliance SPI protocol.
For both chips, the PHY core can operate from a single 1.8 or 3.3V rail, with the lower voltage option supporting the 1.0Vp-p transmission. "The 1.0Vp-p operating mode, external termination resistors and independent Rx/Tx pins make the ADIN1100 suited to intrinsic safety applications," according to the company.
Supply voltage monitoring and power-on reset are included.
Both come in 40 contact 6 x 6 x 0.75mm 'lead frame chips-scale packages' (LFCSP).
The product pages are here:
If you are prepared to register, an article on the 10BASE-T1L physical layer Ethernet standard is available


[ad_2]

Source link