[ad_1]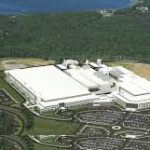 GlobalFoundries has announced its expansion plans for its most advanced manufacturing facility in upstate New York over the coming years.
These plans include immediate investments to address the global chip shortage at its existing Fab 8 facility as well as construction of a new fab on the same campus that will double the site's capacity.
The announcement was made as the company convened leaders from government and industry to progress the national discussion around solving U.S. semiconductor supply chain challenges. CEO Tom Caulfield was joined by U.S. Senate Majority Leader Chuck Schumer​, U.S. Secretary of Commerce Gina M. Raimondo, former Pentagon officials, and executives from leading companies throughout the semiconductor supply chain.
GF will invest $1 billion to immediately add an additional 150,000 wafers per year within its existing fab to help address the global chip shortage.
Following that, GLoFo plans to construct a new fab that will create more than 1,000 new direct high-tech jobs and thousands more indirect jobs including high-paying construction jobs for the region.
Following the successful investment model of Fab 8, GloFo is planning to fund the new facility through private-public partnerships including customers, federal and state investments.
This new capacity will serve the growing demand for secure, feature-rich chips needed by high-growth markets including automotive, 5G connectivity and IoT. The facility will also support national security requirements for a secure supply chain.
These investments to expand GLoFo's U.S. manufacturing footprint are part of the company's broader global expansion plans that include the recently announced new fab in Singapore and $1 billion planned investment to expand in Germany.


[ad_2]

Source link