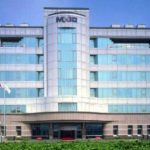 Foxconn has been looking at manufacturing ICs for several years.
In 2019 it tried to buy a fab from Fujitsu but UMC stepped in and bought it.
Last June, Foxconn bought a 5% stake in Dagang NeXchange Berhad (DNex) — the parent company of Malaysian chipmaker Silterra — in a deal that secured Foxconn a seat on the board of DNex.
Earlier this week, DNex announced a $400 million supply deal  for driver ICs, touch controllers and fingerprint chips to Chip One of mainland China.
The cost of the 6"  Macronix fab in Hsinchu is $90 million and is seen as a way to secure ICs for Foxconn's planned EV business.
The purchase price includes the facility and equipment, but no transfer of employees is involved.
Foxconn Chairman Young Liu says the fab will focus on SiC chips.
"This is a great opportunity for us to turn this 6-inch chip plant into a research and development as well as a production base for SiC chips," says Liu.
Liu said Foxconn plans to invest to increase the plant's capacity to 15,000 wafers per month beginning in 2024.
That would be enough to supply SiC chips for around 360,000 electric vehicles a year. Foxconn's SiC chip facility will compete against and cooperate with existing SiC suppliers, he said.