[ad_1]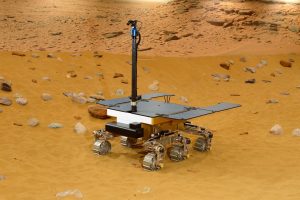 The show, in November, will feature a space zone and this is where you can see the semi-autonomous system. It is equipped with all the same technology as the final rover that will actually land on Mars, including the sensors, actuators and cameras that allow the rover to see in 3D while navigating the red planet.
The final flight rover, note, will be equipped with a drill that can bore two metres deep, and metal wheels that have the same flexibility as rubber, without risking contamination to any life that it finds.
The significance of the sophisticated system, is that the ExoMars rover will be the first rover used to directly search for life on Mars as part of a joint mission between the European Space Agency (ESA) and Russia. The mission is due to take place in June 2023.
The rover is just one example of how the UK's engineering industry is leading the way in space and satellite innovation, say the event organisers.
"Having Bruno at Advanced Engineering UK will be an extremely important moment for our engineering and manufacturing industry," explained Aleiya Londsale, Head of Marketing at Easyfairs, organiser of Advanced Engineering. "This year's Advanced Engineering UK gives our close-knit industry the chance to reunite and do business again and I can't think of a better place to showcase Bruno's technology and features. With exhibitor space almost full, and so many exciting speakers and features confirmed, people really can't afford to miss this year's show."
NEC
Advanced Engineering UK runs over two days at the NEC, Birmingham on 3-4 November 2021
This year, Advanced Engineering UK introduces a new show zone dedicated to space and satellite innovation. The zone will be part of Advanced Engineering UK's existing Aero Engineering floor and will be supported by the UK Space Agency and ADS Group.
It will bring together the UK's space and satellite manufacturers, research and development partners and supply chain businesses spanning R&D, design, test, production, manufacturing and advanced materials.
"The UK's involvement in space and satellite technology is constantly growing, so the dedicated area on the show floor this year provides a brilliant opportunity for this sector to showcase its innovative space capabilities," said Bhavin Vyas, Head of Space at ADS.

"We are looking forward to being at the show more than ever and we are excited to support our space sector members who will also be present at the show. The recent release of the 'Size and Health of the Space Industry report' by the UK Space Agency is a perfect example of how the UK is prospering from this growing sector and it will be great to see so many innovative companies showcasing the technologies that are key to the UK's growth in the sector."
See also: ESA takes ExoMars for a spin


[ad_2]

Source link