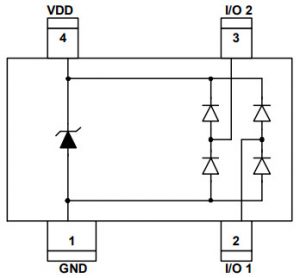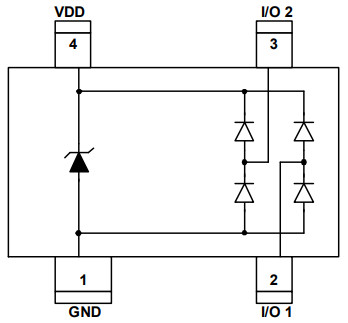 "The multifaceted AZ1015-02N maintains low surge clamping voltage for ESD/EOS  protection and low capacitance to keep signal integrity," according to New Yorker Electronics, which is stocking the part. "The device is used for audio interface, monitor and flat panel display, USB2.0 and SIM ports."
The device protects two data lines or audio lines, and includes a clamping cell transient voltage suppressor which connects to the circuit power rails, and four low-capacitance surge-rated diodes – a pair to each input (see diagram).
"During transient conditions, the steering diodes direct the transient to either the power supply line or to the ground line," said New Yorker. "The internal unique design of clamping cell prevents overvoltage on the power line, protecting any downstream components." With USB it will work "even when the pulse appears on the VBUS of the USB port. Therefore, the data lines and VBUS of the two ports are completely protected with this device."
It is designed to protect circuits up to 5V (6V abs max) with 5μA max leakage (25°C) from the power rail and 1μA through the signal pins.
Typically, clamping voltage is 8V (9V max) and input capacitance is 2pF (3pF max). Channel to channel capacitance is 80fF (1MHz 25°C, 150fF max).
The data sheet is clearly written and include discussion of the effect of inductance on clamping voltage.  It recommends an optional 0.1μF capacitor across the power rail connections to reduce the amplitude of transients injected into the power rails.
For USB protection two extra resistors and two extra capacitors are required.
Transient protection is to
IEC 61000-4-2 (EAD) ±15kV air, ±8kV contact
IEC 61000-4-4 (EFT) 40A (5/50ns)
IEC 61000-4-5 (Lightning) 12A (8/20μs)
New Yorker's AZ1015-02N product page is here