[ad_1]

My hometown of Woodward, Pennsylvania, is a small village nestled in the Appalachians, smack dab in the middle of the state. Relatively sequestered from the world, this tiny hamlet is, in many ways, frozen in time.
For over a hundred years, like clockwork, the town has had two diehard traditions. In August, there is the Woodward Festival, an event to raise money for the local cemetery association. On the day after Thanksgiving, the entire town congregates to hand-butcher and smoke pigs for Christmas hams. Both of these celebrations revolve around death, renewal, and honoring their heritage.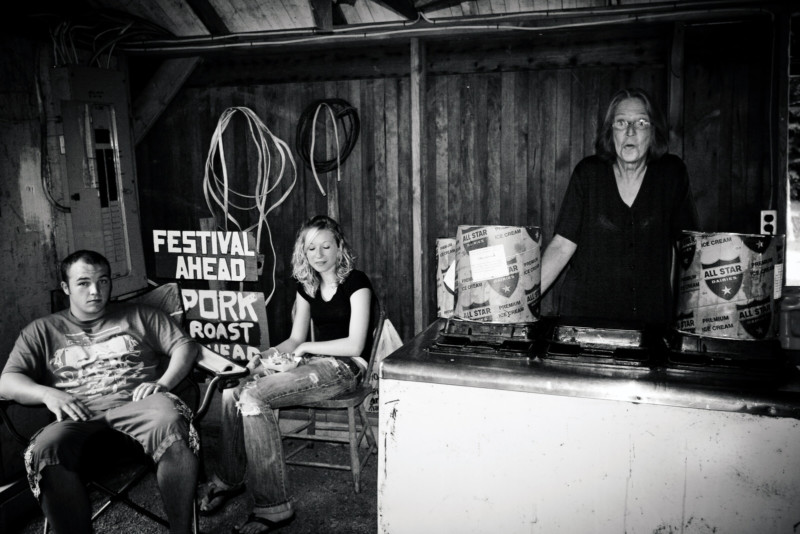 To the modern eye, these community celebrations feel like a peek into a long-lost agrarian society, doggedly clinging to ancient Teutonic traditions. It's still very much a way of life in central Pennsylvania, however. Fall festivals annually dot the landscape, sharing the bounty of harvest with family, neighbors, and curious guests.
At these gatherings, Amish and "Englishers" often work side by side, teaching each other, joking, and teasing each other.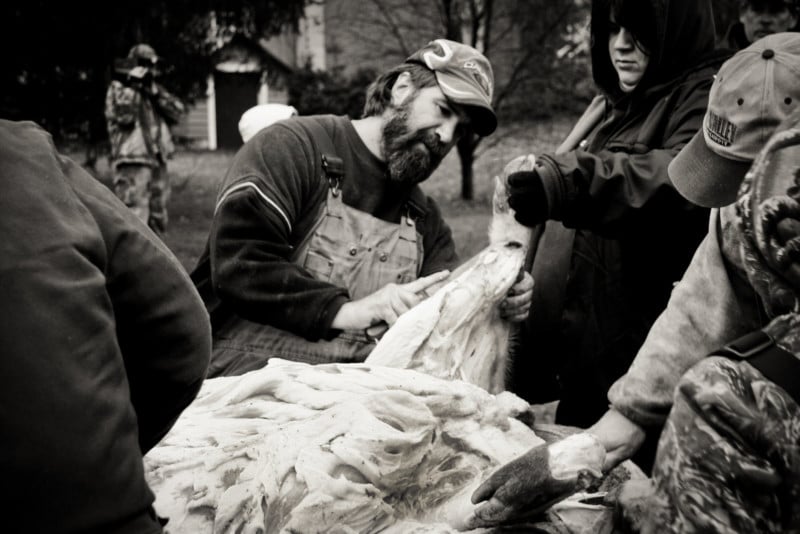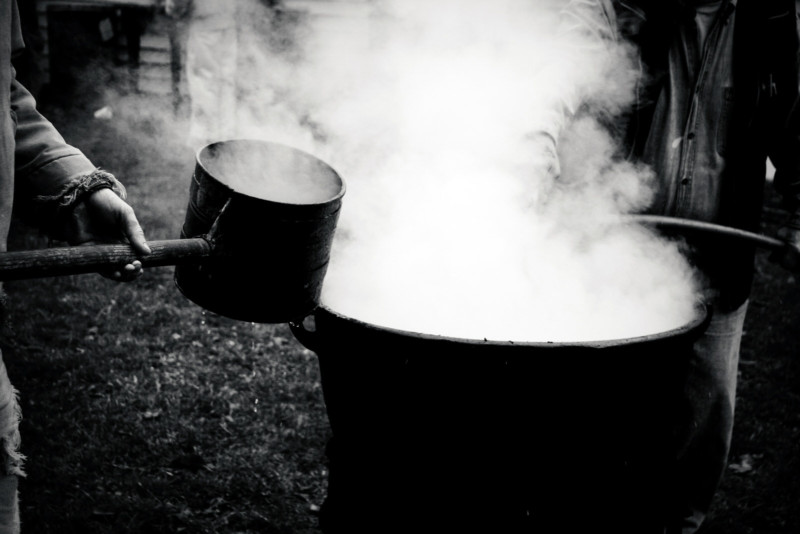 These photographs illustrate the community of Woodward coming together to feed each other, catch up on gossip, teach, and create the pure spectacle of processing food the way people did in the centuries before industrialization.
The Woodward Festival, devoid of rides and honky-tonk, is held annually in a secluded hollow in the woods. People play bingo using pieces of dried corn as markers; you can win prizes by tossing dimes into dishes or drawing numbers from an old lard can; talented bakers donate their coveted confections to the cake auction.
Butchering Day still deeply resembles 100 years ago – in fact, they still use the same tools: sausage grinders from the 1920s, iron kettles from the 1880s cooking down lard over open fires, a community of flashing knives and band saws hacking apart the meat. It is quick, clean, and as humane as possible. To know directly where your food comes from – in fact, seeing it grow and thrive in front of you for months – is something lost in modern society.
These photos were taken at various gatherings over the last few years. Some of the faces have moved beyond the veil, buried in the very cemeteries their efforts helped to preserve.
---
About the author: Alice Teeple is a multidisciplinary artist, writer, and musician. The opinions expressed in this article are solely those of the author. Teeple's work has been seen in Post-Punk.com, Rolling Stone, NPR.org, Empirical Nonsense, Downtown Magazine, CVLT NATION, Brooklyn Paper, Broadway World, Voyage LA, and a myriad of album covers. Her photos will be on display at Ed Varie Gallery in NYC this fall. Teeple earned a BA in Integrative Arts from Penn State University in 2005. She lives in New York City, where she works as a freelance photographer. She is a music writer for Post-Punk.com. You can find more of her work on her website and Instagram.
[ad_2]

Source link