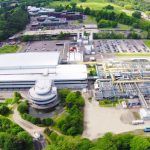 Nexperia, the Chinese-owned former standards product division of NXP, has bought the 40 year-old former Inmos fab in Newport.
Nexperia is a foundry customer of the fab now called Newport Wafer Fab and became its second largest shareholder in 2019. 
Current capacity is over 35,000 200 mm wpm covering a wide range of semiconductor technologies ranging from MOSFETs and Trench IGBTs using wafer thinning methods to CMOS, analogue and compound semiconductors.
It will complement Nexperia's 8" investments at its Manchester and Hamburg.