If you're looking for a tablet that can double as a laptop, then consider one of the best Surface Pro alternatives. Sure, the Microsoft Surface Pro 7 and Surface Pro 7+ are some of the very best 2-in-1 laptops right now, but they're far from not perfect. The consumer model has good performance and finally offers a USB Type-C port, but the tablet's SSD is slow and pricey, and battery life has gone down too.  
And although its $749 starting price is pretty attractive, you'll want to spend a bit more to get the $899 midrange model with an Intel Core i5 CPU, 8GB of RAM and a 128GB SSD. And that price doesn't include the Surface Pro Type Cover ($129) and the Surface Pen ($99). Those crucial accessories put the true cost of a Surface Pro closer to $1,127, which exceeds the price of the Samsung Galaxy Tab S7 Plus.
So to help in your search for your ideal machine, we've compiled a list of our favorite alternatives to Microsoft's Surface Pro. On this list are products from various brands but look out for another Microsoft contender in the Surface Laptop Go, which we're currently in the process of testing. If you can't find anything on this list, visit our best 2-in-1 laptops page for the best folding and detachable devices. We also have dedicated pages ranking the best laptops for photo editing and video editing. 
What are the best Surface Pro alternatives?
We've tested laptops that turn into tablets and tablets that double as laptops. Of the countless products we've come across, our favorite Surface Pro alternative is the Lenovo ThinkPad X12 Detachable, which uses the same detachable tablet form factor as the Surface Pro 7 but does it even better. 
Another great option is the HP Envy x360, or if you have a larger budget, the HP Spectre x360 14. These laptops have gorgeous designs and fast performance. While not as portable as the Surface Pro, the Envy x360 and Spectre x360 have similar flexibility in that their displays rotate 360-degrees. 
Other laptops with similar functionality include the Lenovo Yoga 9i and the Dell XPS 13 2-in-1. These direct rivals to the Spectre x360 14 might suit you better depending on your needs and preferences. We didn't add it to this list because of its exorbitant price but the Microsoft Surface Book 3 is another tablet/laptop hybrid that deserves your consideration. 
Another great alternative to the Surface Pro is the iPad Pro. Hear me out. Apple's latest tablet adds trackpad and mouse support so you can now navigate with a cursor. The new feature works well but is only fully realized with the extremely expensive Magic Keyboard. Not part of Apple's ecosystem? The new Samsung Galaxy Tab S7 and Tab S7 Plus running Android 10 have a lot to offer.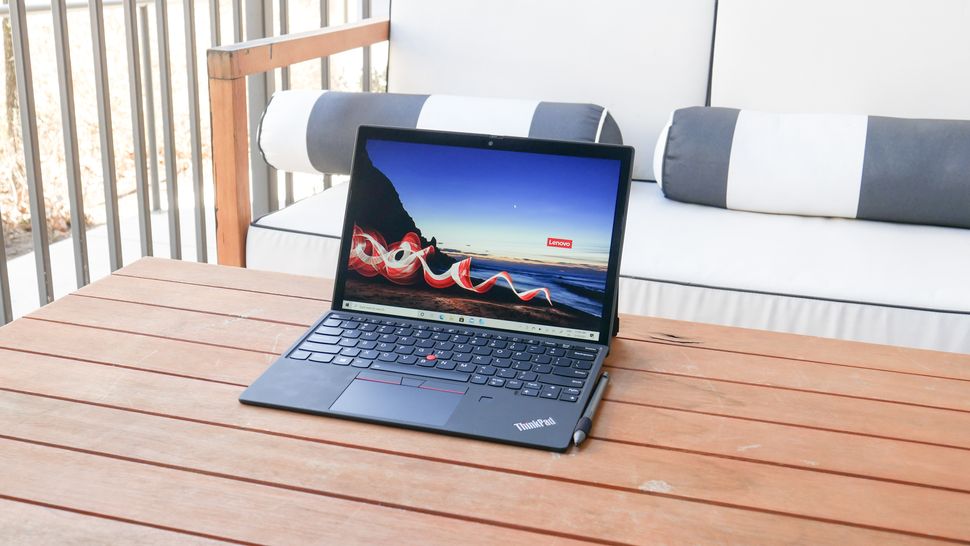 The Lenovo ThinkPad X12 Detachable is, in short, a better version of the Surface Pro 7. It has the same detachable form factor and uses a kickstand that can rotate to about the same 160-degree angle. The 12.3-inch display is almost identical to the one on the Surface and, like the Pro 7, the detachable keyboard is fantastic. You even get military-grade durability from its rigid chassis.
Why is it better than the Surface Pro 7 and Pro 7+? Because the ThinkPad X12 Detachable lasts longer on a charge, enduring for more than 11 hours, and it weighs slightly less than its magnesium alloy competitor.  Better yet, the X12 Detachable come bundled with the keyboard and pen, although you'll need to spend a pretty penny on this business-focused detachable. 
If you need good speakers or a USB Type-A port, then you might go with the Surface Pro 7, otherwise, we prefer the X12 Detachable.
See our Lenovo ThinkPad X12 Detachable review
Adopting many of its rival's best features, the Latitude 7320 swims toward the top of our best tablets and best 2-in-1 laptops rankings. Standout features include a gorgeous 13-inch display, fast performance, a comfortable detachable keyboard with a built-in stylus slot, useful security features, and a class-leading webcam (yes, you read that right). These are all packaged in a sleek metal chassis that can easily be slipped into a backpack or purse. 
The Latitude does waver in a few areas. The kickstand feels somewhat flimsy and the sky-high price will detract all but the highest-ranking execs or the wealthiest corporations. Despite these faults, the Latitude 7320 gives Dell enterprise customers an excellent version of this ultra-mobile form factor so they can work or relax from anywhere.
See our Dell Latitude 7320 Detachable review.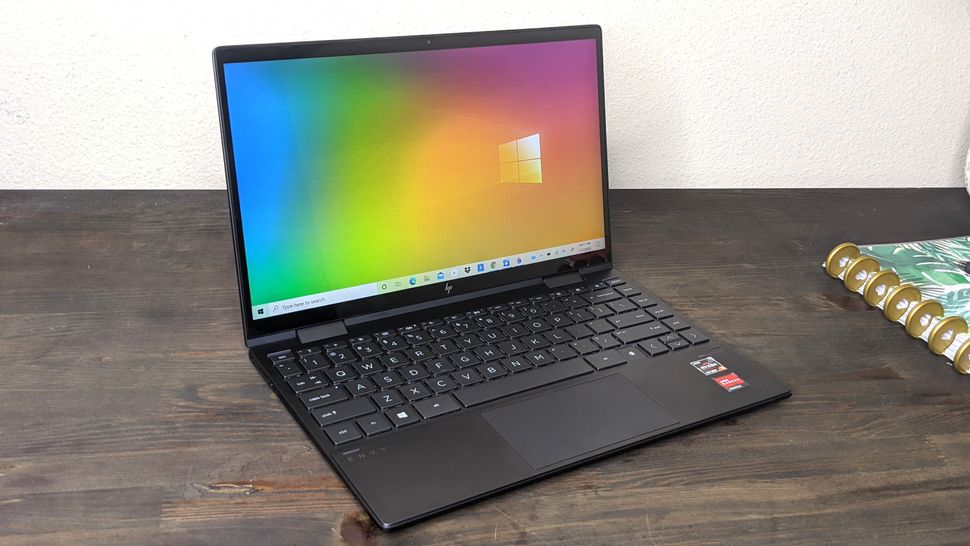 The HP Envy x360 13 is the best laptop for under $1,000 and the best alternative to the Surface Pro 7. While it doesn't come with a stylus (neither does the Surface Pro), the Envy is a 2-in-1, which lets you flip it into tent or tablet mode. What makes this such a fantastic value is its entirely aluminum design and Herculian AMD Ryzen processors. 
In our testing, we found that an Envy x360 13 with a Ryzen 5 4500U CPU can outperform laptops with 10th Gen Intel chips. This specific Envy costs just $800 and can outmuscle laptops that cost well over $1,000, including the exorbitant MacBook Pro. Moreover, the Envy x360 13 has a bright, vivid 13.3-inch display and a comfortable keyboard. 
There is very little we don't like about the Envy x360. If you can get over the lack of a Thunderbolt 3 port and IR camera, then it is the ultimate money-saving laptop.
See our HP Envy x360 13 (2020) review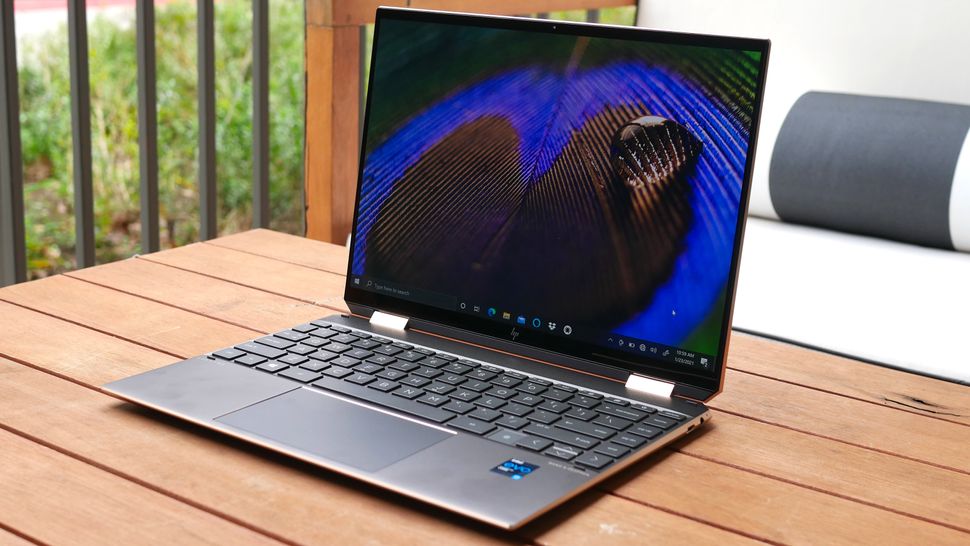 The Spectre x360 14 is the best 2-in-1 laptop ever. Newly released for 2021, the 13.5-inch model builds upon its predecessors but adds useful new features including a 3:2 aspect ratio display and 11th Gen Intel CPUs with Iris Xe graphics. Highlights of this laptop include a stunning design, bright and vivid 1920 x 1280-pixel IPS and 3K2K OLED display options, epic 12+ hour battery life and fast overall performance. 
Add to that a generously sized touchpad that is silky to the touch as well as a comfortable (albeit shallow) keyboard, excellent security options (fingerprint sensor and facial recognition) and a good selection of ports, and well, it's easy to see why we like this laptop so much. 
We recommend buying the Spectre x360 14 over the Envy 13 if you have the money, especially if you need the flexible design. In fact, the Spectre x360 14 is the best HP laptop if you want a convertible notebook. Sure, it has a few faults, but those are easily forgotten once you get this beauty in your hands. 
See our HP Spectre x360 14 review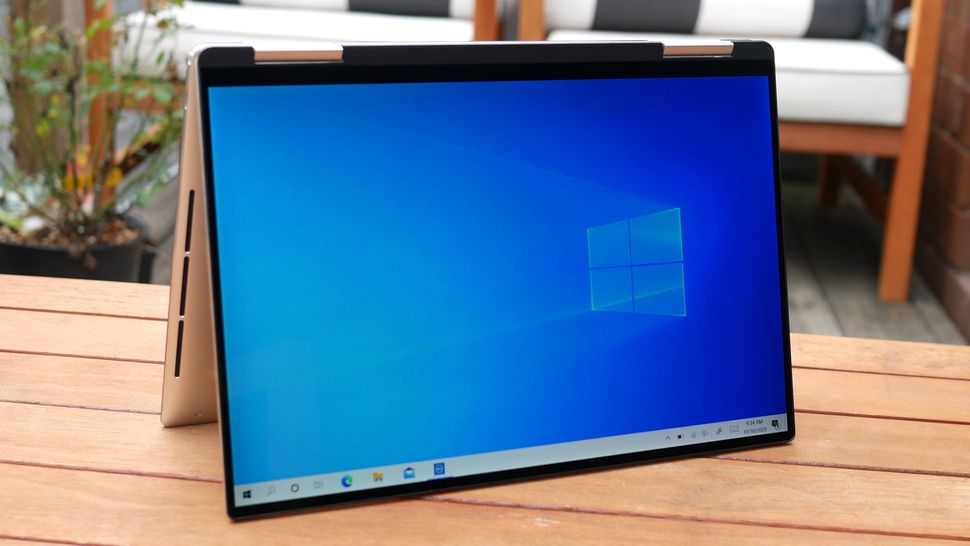 Dell's new XPS 13 2-in-1 takes everything we love about the clamshell XPS 13 — fast performance (thanks to 11th Gen CPUs), a sleek, lightweight design and very long battery life — and put it in a flexible convertible chassis. You also get a unique 13.4-inch, 1920 x 1200-resolution display. 
No, that's no typo; The XPS 13 2-in-1's touch screen has a 16:10 aspect ratio, making it taller than almost every other 13-inch display. Better yet, that panel is both bright and vivid. While the shallow keyboard won't be for everyone, the XPS 13 2-in-1 makes up for it with long battery life and excellent build quality. 
See our full Dell XPS 13 2-in-1 review.
The 12.9-inch iPad Pro is the best tablet for power users, by some distance. It might not be a major improvement over its predecessor, but the new A12Z Bionic chip still performs well against full-fledged laptops. 
The biggest improvement has more to do with software. Added cursor and trackpad support mean the iPad Pro is finally a true laptop replacement. You can now connect any Bluetooth mouse or wireless trackpad (like the Magic Trackpad 2) and use a cursor to navigate iPadOS 13.2. The feature will feel complete when Apple releases the Magic keyboard attachment with trackpad later this year (although it'll cost $349). 
Another new feature is the lidar sensor, which accompanies two rear-facing cameras. Designed to improve AR apps, the potential of this sensor will be realized in the years to come. Apart from those features, the iPad Pro is exactly what we've come to expect; It has an excellent 12.9-inch display, awesome performance and long battery life. 
Read our full 12.9-inch Apple iPad Pro (2020) review.
Samsung's Galaxy Tab S7 ($649) and Galaxy Tab S7 Plus ($849) are a pair of Android 10 tablets with fast performance and an included S Pen stylus that can be stored and charged on a magnetic strip located on the back fo the tablets. But the highlight of Samsung's new Surface Pro killer is the 12.4-inch OLED display on the Galaxy Tab S7 Plus, which is more colorful than any other tablet panel. 
We also appreciate the larger keys and responsive touchpad on the improved Book Cover Keyboard accessory, and the DeX desktop interface makes the Galaxy Tab S7 and Galaxy Tab S7 Plus viable laptop replacements.  
Android tablets are harder to find, but the Galaxy Tab S7 and Tab S7 Plus make a case for the rare breed. If you can find a good deal on it, the Galaxy Tab S7 might be a better value than any iPad or Surface tablet on the market.
If you're looking for something cheaper and don't need the DeX desktop interface, consider the Galaxy Tab S6 Lite.
Read our full Samsung Galaxy Tab S7 and Tab S7 Plus review.
LG's consistently delivered exceptionally light laptops, and the Gram 14 2-in-1 is probably its best stab yet. Combining terrific endurance (over 11 hours of battery life!) with speedy performance and a light-but-durable design, this convertible might just convert you to believing in LG. But while we like its colorful, crisp display, that panel could stand to be brighter.
The Gram 14 2-in-1 also lacks a Thunderbolt 3 port, a future-proof connection that should be a given on any premium-priced laptop. Still, few laptops are as featherweight as the Gram 14 2-in-1, which puts it in a class of its own. 
Read our full LG Gram 14 2-in-1 review.
It's bigger and pricier than the Surface Pro 7, but those potential reasons to skip the Galaxy Book Flex 15 are easy to overlook when you consider everything it has to offer. It all starts with the gorgeous 15-inch, 1080p QLED display, which is both bright and vivid. Matching those bold colors is the Book Flex 15's stunning royal-blue aluminum design, which is slim and lightweight.
Somehow Samsung found a way to fit an S Pen slot within the chassis and made the touchpad a wireless charger. On top of that, you get some of the battery life we've ever seen from a laptop, at 15 hours and 44 minutes. 
See our Samsung Galaxy Book Flex 15 review
Just because the Surface Pro 7 isn't for you doesn't mean you should abandon Microsoft. Especially with the Surface Go 2 on shelves; This $399 budget tablet might not give you the performance of the Surface Pro, but it has the same general design and even slimmer display bezels. 
Compared with the Surface Go, the Surface Go 2 has a larger display, faster Core m3 processors and a battery that lasts longer than 11 hours. The Surface Go 2 might not give you everything these other Surface Pro 7 alternatives provide, but it's essentially the same tablet at a much cheaper price, albeit, with fewer features and slower performance.
See our Surface Go 2 review
How to choose the best Surface Pro alternative
The Surface Pro is a tablet that can convert into a laptop, so you want to look for something with similar flexibility. You can stick with the tablet-turned-laptop by opting for the new iPad Pro, which will soon be sold with a Magic Keyboard with touchpad. Or you can opt for the more common 2-in-1 hybrids, which start as a laptop but rotate into a tablet. 
Whichever you choose, there are certain specs you'll need to get a similar experience to the Surface Pro. First, the laptop or tablet needs to be lightweight. Anything under 3 pounds is generally considered portable, although tablets should weigh close-to or under 2 pounds. You'll also want something thin — anything at or below 0.6 inches will do the trick. 
Battery life is another key component of any good Surface Pro alternative. If you plan to take the device on the go, don't count on there being an outlet!  Consider a laptop or tablet that gets at least 9 hours of battery life, which should be enough to get you through a full day. 
When it comes to specs, we recommend buying a laptop with an Intel U-series or H-series Core i5 CPU, at least 8GB of RAM (16GB is great) and a minimum of 256GB of storage. AMD is coming in hot with its 4000-series chips, so keep an eye out for those.
The Surface Pro tablets have excellent displays, so consider a device with a display that is at least 12 inches large with a minimum 1080p resolution. 
How we test laptops
We put each laptop through extensive benchmark testing — both synthetic and real-world — before they end up in the hands of our reviewers. We evaluate each aspect of the laptop, including its performance, battery life, display, speakers and heat management.
In our benchmark testing, we use a Klein K10 colorimeter to detect the brightness and sRGB color gamut of the laptop's display. For performance testing, we run the laptop through a gauntlet of benchmarks, including Geekbench 4.3 and 5.0 and 3DMark professional graphics tests. 
To determine real-world performance, we task the laptop to convert a 4K video to 1080p resolution and to duplicate a 4.97GB multimedia file. Our real-world graphics test is the Dirt 3 benchmark with medium settings at 1080p resolution. 
We also run heat tests by playing a 15-minute full-screen video and measuring temperatures in different areas of the laptop. Last but not least, our battery test consists of continuous web surfing over Wi-Fi at 150 nits of brightness. For MacBooks and premium Windows 10 laptops, a runtime of over 9 hours is considered a good result whereas gaming laptops and workstations that can stay powered for longer than 5 hours deserve praise. 
These tests are complemented by extensive hands-on testing from our reviewers who critique everything from the laptop's materials to the feel of its touchpad.