[ad_1]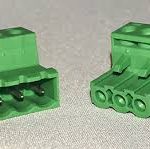 The products include single-deck and multi-deck terminal blocks, plug-in connectors and spring terminal blocks.
The Euro-Block terminal blocks are available on short lead times, with many ex-stock, offering a fast-turnaround option.
Euro-Block PCB terminal blocks and connectors are made from a PA66 Polyamide V0 self-extinguishing plastic, conforming to GLOW WIRE standards.
The soldering pins are made of copper alloy with tin plating over nickel plating to ensure reliable soldering even with the new lead free soldering system.
The connecting clamp is also made of copper alloy with nickel plating, offering high corrosion resistance.
The screws are made of steel with a zinc plating. Other surface treatments like gold-plating or copper alloy screws can be provided as custom options.
Connectors for the THT soldering process (pin-in-paste), are available on request. The connectors can also be packed in "Tape and Reel" for the pick-and-place assembly process.
Euro-Block DIN Rail supports are made of extruded plastic and are available in 72mm and 107mm sizes. The design enables quick assembly onto DIN rails and the supports can be easily cut to size to suit the PCB layout.
The supports are available in both green and black. BEC is also a franchised distributor of resistors, inductors, coils, chokes, power supplies, LAN Magnetics and Transforms.


[ad_2]

Source link