With the increasing popularity of the Adafruit Feather form factor in recent years, many third-party manufacturers have developed Feather-compatible boards, such as the Penguino Feather 4260, Giant board, OrangeCrab, and Feather-S2. Mexico-based Electronic Cats has come up with their own Feather-compatible board with LoRa connectivity: BastWAN.
A high-performance, ultra-low-power RAK4260 module based on Microchip R34 LoRa® System-in-Package (SiP) powers the development board. Additionally, the UF2 USB bootloader comes pre-installed on BastWAN, and it's completely assembled, tested, and programmed.
BastWAN is perfect for beginners and advanced developers, and it is similar to the Penguino Feather 4260. But unlike the Penguino board, BastWAN uses only an SMA antenna connector (no uFL option). But lacks an RGB LED and substitutes the USB-C port with a Micro USB port for power and debugging. Additionally, BastWAN provides SWD support through four holes rather than a 10-pin connector.
Discussing further, Microchip R34 is an industry's ultra-low-power LoRa (Long Range) SiP device which includes an integrated 48Mhz SAML21 32-bit microcontroller and a LoRa transceiver. It operates in the range of 862 to 1020 MHz frequency. It is designed for ultra-long range spread spectrum communication-based applications with minimal line-power demand.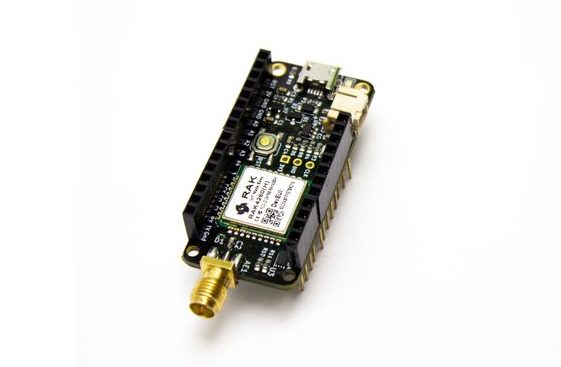 Features of BastWAN Feather-compatible Board
RAKWireless RAK4260 module based on low-power Microchip R34 LoRa SiP device with SAM L21 Arm
Cortex M0+ MCU and LoRa transceiver for connectivity.
It has up to 32 KB RAM and 256 KB of Flash
Rapid prototype with LoRa/LoRaWAN technology
20 IO pins available on pin headers— PWM, Serial, I2C, SPI, 6x 12-bit ADC, 1x 10-bit DAC.
The ATECC608A crypto authentication chip ensures secure communication.
There are three power supplies available. These include 5V via a micro USB port, a 2-pin header for a LiPo battery, and a 3.3V regulator with a peak current of 500mA.
The board also includes a built-in 100mA LiPo charger with a charging status indicator, an SMA antenna connector, a micro-USB port, a reset pin, and a button.
For easy software development, the Arduino environment is fully supported including a LoRa compatible software stack.
Dimensions – 50.8 mm x 22.8 mm
Weight 6.9 grams
The Feather-format board also includes a Microchip ATECC608A cryptographic coprocessor which provides hardware-based security and hardware-based key storage, both of which are useful for connecting your projects to the cloud. It features a built-in USB, thus it provides a USB-to-Serial program and debugs functionality "with no need for an FTDI-like chip".
Coming to the software part, the BastWAN comes pre-loaded with the UF2 bootloader. It appears as a virtual disk drive, so reprogramming is as easy as dragging and dropping the firmware file. Additionally, as the bootloader is BOSSA compatible, it can be used directly within the Arduino integrated development environment (IDE), MakeCode, and other programming environments.
BastWAN is available for $31.39 on Tindie. For more information visit the product page. Images and technical specifications have also been taken from the product page.