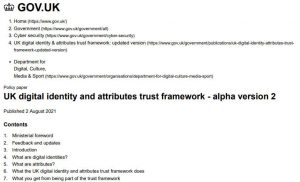 The rules are in a 'trust framework'.
"The framework incorporates extensive feedback from an on-line survey and government engagement sessions with a range of external organisations," according to DCMS, the Department for Digital, Culture, Media & Sport. "The framework shows how organisations can be certified to provide secure digital identity services and that they will have to go through an assessment process with an independent certification body. It also states how data can be shared between organisations and announces the government will start testing the framework in partnership with service providers."
The second version includes:
Details on how organisations will become certified against the trust framework, including how the independent assessment will take place – the process will involve bodies accredited by the UK Accreditation Service (UKAS) completing service audits to assess eligibility
Guidance on how organisations can work together to create a consistent approach and deliver a better user experience, reducing the need for repetitive verification processes. "It outlines, for example, how organisations should describe data in the same format so other organisations know the method of identity verification used", said DCMS
Clearer definitions for the trust framework's roles so organisations can better understand which applies to their specific service, depending on how they are managing data
Refined rules on areas such as how to manage digital identity accounts – detailed operational requirements have been removed "so they work for a broader range of technologies and support the government's tech-neutral approach", said DCMS
Applications have also opened for organisations interested in taking part in testing – assessing where their service meets the proposed trust framework rules and providing feedback. "This process will prepare organisations for full certification in the future, as well as help the government to refine trust framework rules so they work for both people and organisations," according to DCMS.
The government expects to bring the finished framework into law.
v2 of the framework and alpha testing details can be found here
Last month the Government opened the full consultation on the legal status of digital identities. This closes in mid September.