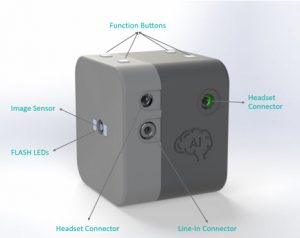 MaxRefDes178# "is a cube camera reference design based on the MAX78000 and MAX32666 microcontrollers to help AI at the edge device designers to accelerate their proof-of-concept to the market phase," according to the company.
Measuring 41 x 44 x 39mm, inside are a pair of PCBs (CAD files provided), one for AI and one for connectivity.
The AI board has two MAX78000 ICs – Arm Cortex M4F MCUs with convolutional neural network acceleration – one connected to the image sensor for image and video applications, and the other connected to an on-board digital microphone and stereo audio codec for voice and audio. "This configuration allows the MaxRefDes178 to run two different AI models concurrently: face identification and keyword spotting in parallel, for instance," said Maxim.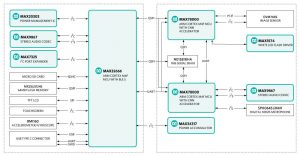 The connectivity board implements wired and wireless comms as well as user-interaction through a capacitive touch LCD screen on the rear of the cube. This board also includes: ceramic antenna, accelerometer, gyroscope, battery charger, audio input, audio output, Micro-SD card slot and on-board flash memory – the latter to store images, AI networks and audio clips.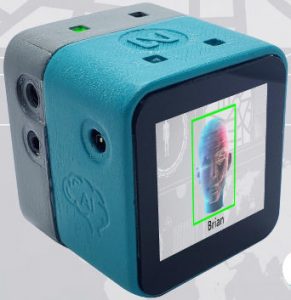 Control and wireless comms on the connectivity board are through its Bluetooth-capable dual Cortex-M4 core MAX326666 MCU – where one core handles the Bluetooth Low Energy and USB software stacks, while the other controls the hardware and transfers data between the TFT LCD, memories, audio codec, USB and BLE radio.
The unit is pre-programmed with an application and can be simply connected to power through a USB Type C cable to fire it up. An associated Android app us available through the Google Play Store.
For programming and debug, an external board and cables (all included in the kit) are needed. It uses the MAXDAP-Type-C DAPLink based debugger. OpenOCD gets installed among the development tool-chain.
"Machine learning promises a lot: that machines can make sense of what they see and hear like humans, as well as make more autonomous decisions," said Maxim director said Kris Ardis, claiming: "Until the MAX78000, the embedded world was left behind because you couldn't implement AI at the edge in a power, cost and size constrained manner."