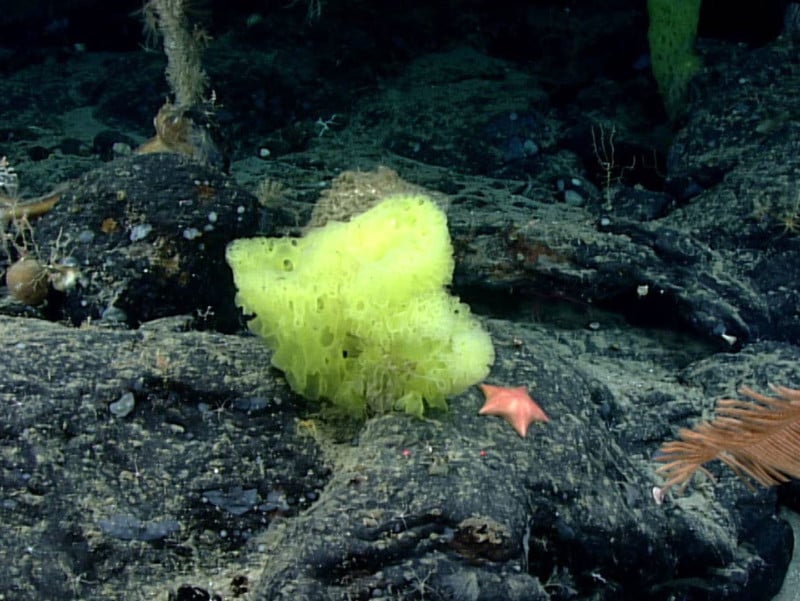 Here's an under-the-sea wildlife photo that may be of particular interest if you're a fan of the hit animated TV series SpongeBob SquarePants. A research vessel has captured SpongeBob and Patrick look-alikes at the bottom of the ocean.
NPR reports that the National Oceanic and Atmospheric Administration's Okeanos Explorer research ship was about 200 miles off the Atlantic coast of the US and operating a submersible with a live camera at a depth of 1885m (~1.17mi) when the silly sighting occurred.
National Museum of Natural History research associate and NOAA collaborator Christopher Mah was watching the feed from the camera when he spotted the yellow sponge and pink sea star next to each other, which reminded him of SpongeBob and his best friend Patrick.
*laugh* I normally avoid these refs..but WOW. REAL LIFE Sponge bob and Patrick! #Okeanos Retreiver seamount 1885 m pic.twitter.com/fffKNKMFjP

— Christopher Mah (@echinoblog) July 27, 2021
"I normally avoid these [references], but WOW," Mah Tweets. "REAL LIFE Sponge bob and Patrick!"
— M (@mwhdeere) July 30, 2021
While SpongeBob and Patrick may be best friends in the cartoon, they're actually enemies in the real world — sea stars eat sponges.
"In all likelihood, the reason that starfish is right next to that sponge is because that sponge is just about to be devoured, at least in part," Mah tells NPR. "The reality is a little crueler than perhaps a cartoon would suggest."
Here's the camera feed that Mah spotted the iconic duo in:
The Okeanos Explorer was in the midst of a month-long expedition called North Atlantic Stepping Stones, which explored unknown deep-sea areas of the Atlantic Ocean. NOAA scientists presumably collected troves of images and data during the trip between June 30 through July 29, 2021, but perhaps none more viral than this lighthearted shot of a little sponge and star.
---
Image credits: Header photograph by NOAA Ocean Exploration